Cargo Pro – Courier System
Cargo Pro is a software designed for companies that handle packages to monitor the logistics of storage and cargo handling to their final destination and managing employees and drivers so you can track all of your company.
Demo: https://codecanyon.net/item/cargo-pro-courier-system/25100228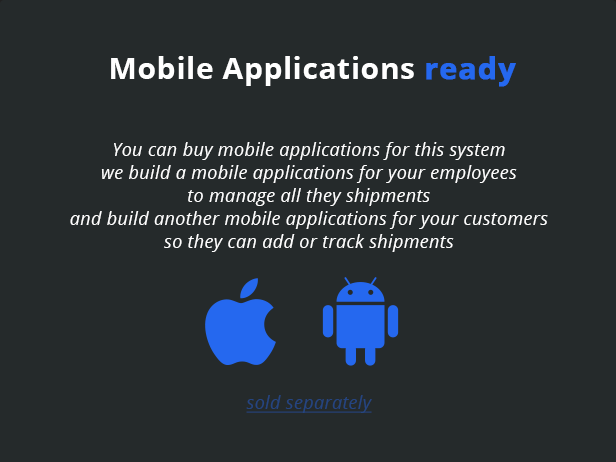 Notes:
CONSIDERING PURCHASING OUR ITEM? Please view our support section for important notes and questions.
PLEASE NOTE THAT THE MOBILE APPLICATIONS ARE SOLD SEPARATELY
Here you can see our demo directly:
For mobile applications inquiries contact us at: cargo@spotlayer.com
PLEASE NOTE THAT SUPPORT IS ONLY AVAILABLE BY ENGLISH VIA OUR SUPPORT SYSTEM
Do you need any help?!
This system is based on Laravel, the advantage of this software is that it is a web system, allowing it to be accessed from a PC, Tablet or Smartphone possessing an Internet connection and a webservices api's ready (only for cargo mobile applications, until now we don't have documenation for them).
The client have the ability to login and request or track his packages.
FEATURES
SMS Notificaitions: ready to be integrated with your account on clickatell directly to send sms for whatever you needs.
Dynamic Workflow: in every step you can choose which one will receive the notification and what he can do too
Multilingual System: you can add any language you need and have the ability to translate it directly from your dashbaord
Multi Currency: you can add any currency you need directly from your dashbaord
alot more …
Changelog
v5.3.0 – [ 08 Jul 2021]
- New.
- Shipment Calculator.
- Shipment Cost by distance.
- Custom costs per client
- Barcode page scanner
- Dynamic delivery time
- Client address by google maps 

- Fixes.
- Improvements and minor bug fixes.