Ultimate POS – Best ERP, Stock Management, Point of Sale & Invoicing application
Ultimate POS With this application, you are assured to save time-consuming process of bookkeeping accounting and inventory information. Also, you will have all the required information for detailed analysis of your business.
Demo: https://codecanyon.net/item/ultimate-pos-stock-management-point-of-sale-application/21216332
Also Checkout: https://www.web4free.in/stocky-ultimate-with-pos/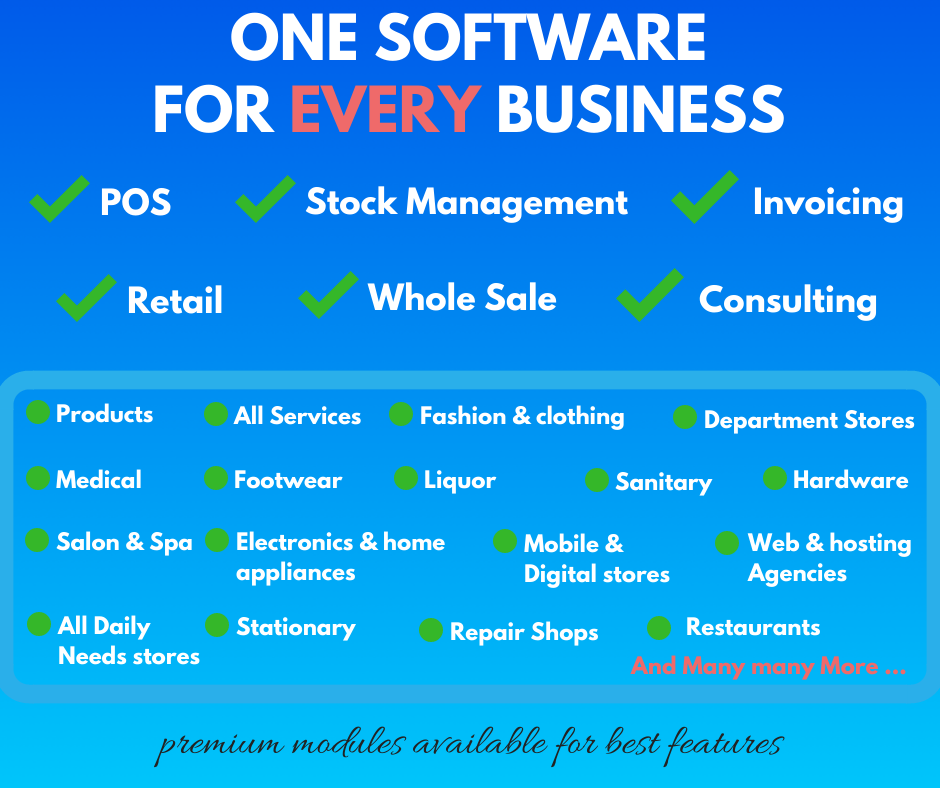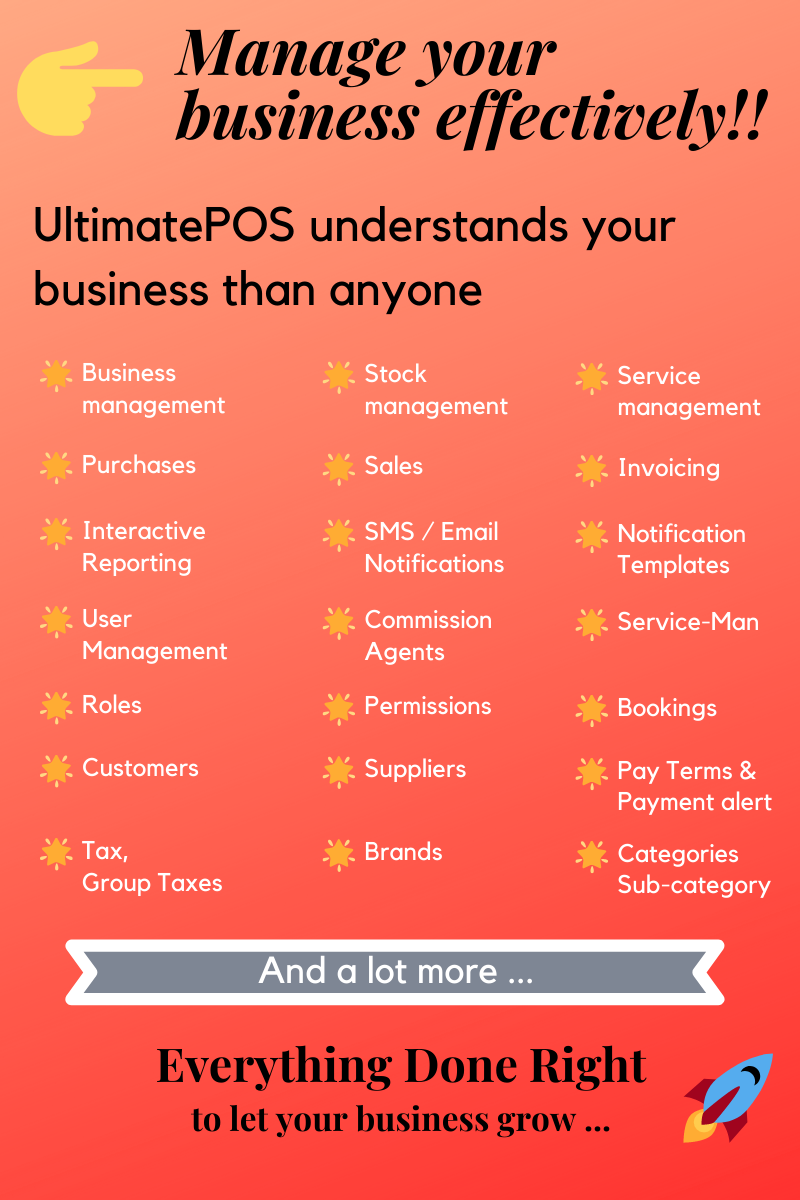 FAQ:
Are future updated FREE?
Yes, all future LIFETIME updates are FREE
Do I have to pay for updating to latest version?
NO, You get updates for FREE
Will it work offline?
Yes, it works offline
What hardware does it support?
– Barcode Scanner
– Receipt or Thermal Printer (Printer with ESC/POS commands)
Does it support our currency?
Yes, we support ALL currency. In case you don't find the currency listed, let us know via comment. We will be adding it in minutes
Does it support languages other than English?
Yes, UltimatePOS is translation ready.
Do you support the item?
Yes, absolutely.
Does it supports GST / VAT taxes?
The tax is completely customizable. You can define GST, VAT and Group taxes like a combination of CGST + SGST. This taxes can be selected while adding purchase & sell. You can view the tax report to view details of input & output tax during a period.
Key Features:
Multiple Business/Shops: 

Set up multiple businesses in the application.
No restriction on numbers of businesses.
Inventory & accounting information is kept separately for each business.

Add Location / Storefronts  / Ware House: 

Create multiple locations for your business/shop
Manage all of them at the same time.
Stocks, Purchases, Sell can be tracked differently for locations.
Customize invoice layout, invoice scheme for each location

User & Role Management: 

Powerful user and role management system
Predefined roles – Admin & Cashier
Create different Roles with permission as per your need.
Create unlimited users with different roles.

Contacts (Customer & Suppliers):

Mark contact as customer or supplier or both(customer & Supplier)
View details of transactions with a contact.
View total of Credit/Debit balance amount
Define pay term and get payment alerts week before the due date.

Products: 

Manage Single & Variable products.
Classify products according to Brands, Category, Sub-Category.
Add products having different units
Add SKU number or auto-generate SKU number with prefixes.
Get stock alerts on low stock.
Save time by auto calculating selling price, the system is smart to auto calculate selling price based on purchase price and profit margin.
No need to type variations every time, create variation template and use it everytime you need to create variable products.

Purchases:

Easily add purchases.
Add purchase for different locations.
Manage Paid/Due purchases.
Get Notified of Due purchases week before the pay date.
Add discounts & Taxes

Sell:

Simplified interface for selling products
Default Walk-In-Customer automatically added to a business
Add new customer from POS screen.
Ajax based selling screen – save reloading time
Mark an invoice for draft or final
Different options for payments
Customize invoice layout and invoice scheme.

Manage Expenses:

Easily add business expenses
Categorise expenses
Analyse expenses based on category and business locations with expenses report.

Reports: 

Purchase & Sale report
Tax Report
Contact Reports
Stock Reports
Expense Report
View Trending Products, drill down by Brands, Category, Sub-category, Units and date ranges
Expense Reports
Cash Register Report
Sales Representative report

Other useful feature:

Set currency, timezone, financial year, the profit margin for a business.
Translation ready.
Predefined barcode sticker settings.
Create your barcode sticker setting
Manage Brands, Tax Rate & Tax groups, Units, Category & Sub-Category
Easy 3 steps installation.
Detailed documentation
Stock Adjustment
Express Checkout
Works Offline
Demo Login Link: http://pos.ultimatefosters.com/login
Username: admin
Password: 123456
Register new business: http://pos.ultimatefosters.com/business/register
UltimatePOS Application has been thoroughly tested to make sure there are no issues but in case you find any issue feel free to inform us about it: http://ultimatefosters.com/support/
For any Pre-Sales or Support inquiry: Feel free to drop us a comment at codecanyon or write us here: http://ultimatefosters.com/support/
With this application, you are assured to save time-consuming process of bookkeeping accounting and inventory information. Also, you will have all the required information for detailed analysis of your business.
Addons:
CRM module for UltimatePOS v1.0
Digital Product catalogue & Menu module for UltimatePOS v0.6
UltimatePOS to WooCommerce Addon (With SaaS compatible) v3.0
SaaS & Superadmin Module for UltimatePOS – Advance v2.7
Essentials & HRM (Human resource management) Module for UltimatePOS v3.0
Project Management module for UltimatePOS v1.6
API or Connector module for UltimatePOS v0.9
Manufacturing Module for UltimatePOS v2.1
Advance Repair module for UltimatePOS v1.0
V4.6 – Released 7 Oct 2021
Added Search by SKU in profit loss by product table
Sell return issue with QRcode fixed
Pending shipments added to dashboard
Add expense permission check added to pos add permission button
Submit button and scroll to top link overlap issue fixed in some forms
Missing location permission checks added to multiple reports, account dropdown location check added
Total expense issue on register details modal fixed
Pay term type dropdown not getting selected on selecting customer issue fixed on sale form
Location permission added to cash flow, balance sheet, trial balance and view all attendance
Location filter added to cash flow, trial balance, balance sheet
Shipping charge added to cash register details grand total
Ledger issue with opening balance payment fixed, Payment type label issue on opening balance fixed
Profit loss report common date filter and location filter added
Register report footer totals added
SMS and WhatsApp notification also added on update sale
On disabling discount shipping button getting hidden issue fixed on the pos screen
Default payment account issue on edit sell fixed, translation issue of purchase order details modal fixed
Customer name not showing in invoice for business type contact issue fixed, submit button overlap with scroll to top link issue fixed
Sales order update success message missing issue fixed
Invoice business address missing comma after landmark fixed
V4.5 – Released 8 Sep 2021
---
Download Ultimate POS Addons for Free
NEW: Add expense from pos screen
FIX: Opening balance logic changes in customer/supplier ledger
FIX: Cash register sale total issue when previous sales date is selected.
FIX: Minimum sell price validation added in add sale (now works same as POS sales)
FIX: Import contact business name when customer fixed.
FIX: 409 error on contact update in some servers fixed
FIX: Payment account debit credit sides swapped
FIX: Convert draft to final exception handling issue fixed
FIX: Datatable action dropdown issue fixed
NOTE: If using Repair module or API module or Digital Catalog module, then after updating UltimatePOS to V4.5, also update these modules
V4.4 – Released 19 Aug 2021
NOTE: After updating UltimatePOS to V4.4 please update all other modules also.
These are the features we're working on now:
[NEW] Payment edit option in edit sale
[NEW] In product sell report added sales by category and brand
[NEW] In dashboard replaced pre-defined date to date range picker.
[NEW] Commission calculation types added: 2 types (Invoice value & Payment received). Related changes in Sales representative report and payroll commission calculation changed
[NEW] Option to display commission agent name in invoice layout.
[NEW] Option to change proforma invoice heading in invoice layout
[NEW] Purchase custom fields added
[NEW] Additional expenses fields added to purchase & purchase order
[NEW] Line discount displayed in invoice. Need to enable from Invoice layout.
[NEW] New layout for ledger as per accounting format.
[Improvement] Many new permissions were added & improved in add/edit roles.
[Improvement] Check added to not allow change admin role if one admin is present in business.
[Improvement] Sku added to stock alert and stock expiry alert on the dashboard
[Improvement] Account book slow loading optimized.
[Improvement] Profit loss report optimized
[Improvement] Account list datatable query optimized
[Improvement] Sell details calculation for dashboard and balance sheet optimized
[Improvement] Cashflow loading optimized
[Improvement] Ajax based contact dropdown implemented on add/edit user form
[Improvement] Contact list filters added
[Improvement] Line taxes added to view sale
[Improvement] Customer supplier report search by business name added
[Improvement]Customer group filter added to product sell report
[Improvement] Item description column added to Items Report
[Improvement] Payment method added to tax report
[Fix]Stock expiry report quantity issue
[Fix] RTL issue in slim2 invoice layout fixed
[Fix] Product expiry related issue fixed
[Fix] Removed – Purchase order getting added in opening-closing stock
[Fix] decimal point issue at some places fixed
[Fix] expense list print number format
[Fix]Cash register report total calculation
[Fix] Currency symbol issue in ledger pdf
[Fix]Import product opening stock fix
Older Versions:
---
VERSION 4.3 Mirror Downloads